Surfing is only fun when you are riding the right surfboard. These best funboards surfboards 2024 have all the characteristics to take your surfing fun to the new limits.
Best Funboard Surfboards for 2024
#1. Lib Tech Pickup Stick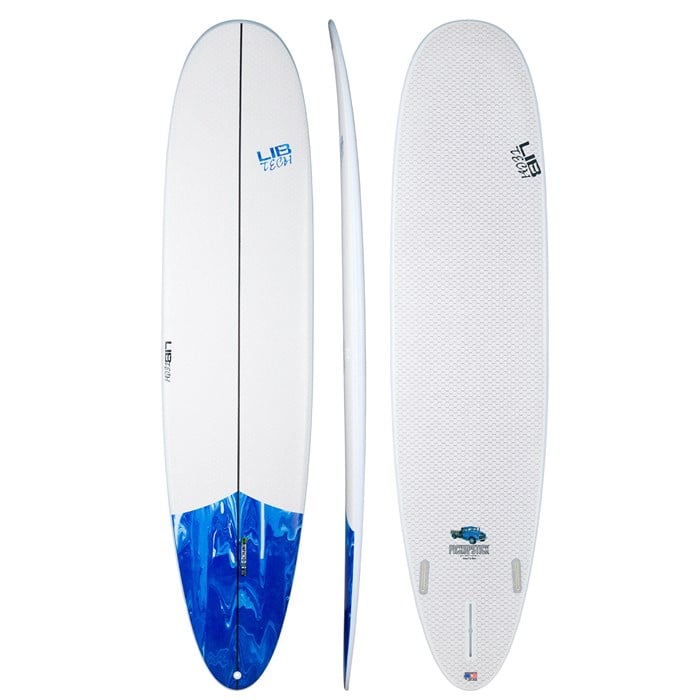 Filling the gap between longboard and shortboard, this mid-board carries the properties of both.
This funboard has the special Lib Tech construction – magnesium basalt carbon construction. Here you get flex and dampness with polyester. The carbon composite stringers match this flex and give you a long-lasting board. With epoxy, you get high durability with the energy to keep you going. Also, the magnesium here provides greater impact resistance. Overall, this construction makes it one of the best funboards on the market.
When it comes to the shape, you get single to double to flat contours with the smooth rocker. Furthermore, it has a double concave bottom which increases the overall performance of the board. Thanks to its pin tail, you can enjoy better stability even when you are going at your best speed. All in all, the features make this board very stable while performing.
This board features one more exclusive Lib Tech feature i.e. the FOC II fin system. This board has five fin box layout. Here you get a lighter and stronger box that has two-tab compatibility with half-inch fin adjustability. You can tune the board as you like and get your desired properties.
All in all, Lib Tech produces one of the best surfboards in the industry, and it also does not leave you disappointed with this board.
#2. Solid Surf Co Diamond Jig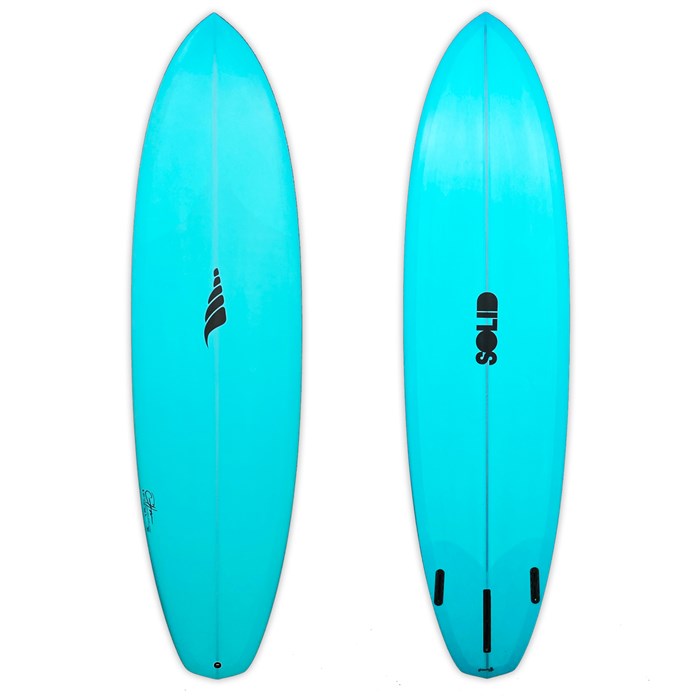 Known as a Swiss army knife of the surfboard world, this board knows how to augment your surfing experience.
Made with diverse materials to give you a perfect combo, this surfboard uses organic hemp, organic cotton, basalt, recycled polyester, plant-based resin, and steam-blown EPS. With all these materials, you get high durability, improved flex, greater impact resistance, and amazing liveliness. All these ingredients make your surfing total fun. The eco-friendly BIOflex construction uses the versatility and power of hemp lamination and epoxy resin core.
To further improve the construction, it is reinforced with volcanic basalt fibers. Also, it features a recycled core where offcuts are recycled into new products.
When it comes to shape, this board provides you great versatility for mid-range performance. It had a balanced profile that gives you greater stability. Thanks to its diamond tail shape, the board remains highly maneuverable while maintaining the surface area for speed. Furthermore, its design helps you to paddle easily and glide like a pro.
The fin box layout is 2+1. It features rear quad fins. They are placed typically at the back to improve drive and make turns easy. Their turning ability does not interfere with your speed so you can perform to your fullest. Its concave bottom improves maneuverability even further when the waves are larger. It is additionally enhanced by hard rail to give you complete control when the condition is optimal.
Overall, it is a fast and durable surfboard that does not restrict you from enjoying your surf.
#3. Catch Surf Odysea 6'0″ Log x Evan Rossell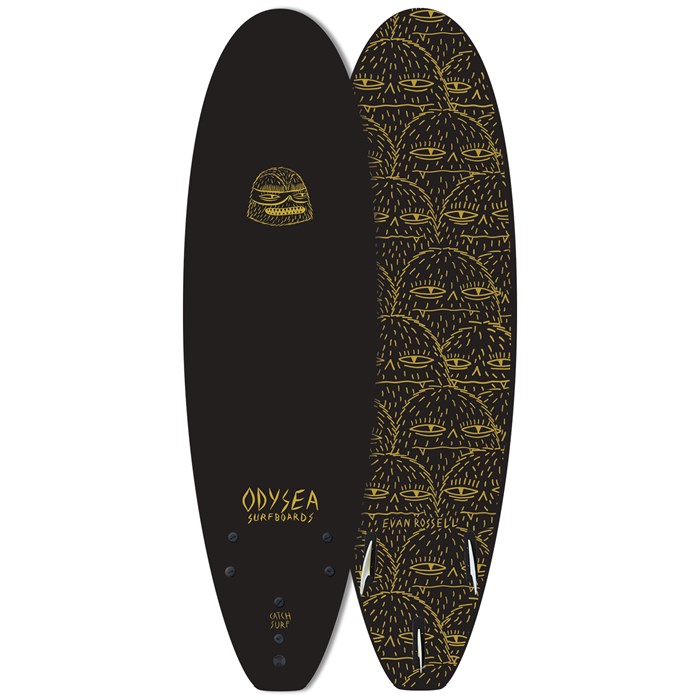 With stunning design and perfect features, this surfboard supports you in all imperfections.
This board features a stiff dual composite core with triple wood stringers. With this construction, this board features extreme durability with the stability that you desire. Furthermore, it has an HDPE slick bottom with a bumper tail that adds extra durability. Also, it features old school PE deck so you can get the most out of this board. The materials used in its construction are composite, wood, and polyethylene.
It is a hybrid board with a high-performance fin system featuring removable fins. It has a tri-fin setup. The fin compatibility is catch surf hi-perf.
Whether you are a beginner or you are a veteran, when you want to have fun, this board has no limit. It allows you to have tons of float. Also, you can easily catch any wave you like when you are on it. Thanks to its squash tail, you get better speed with extra lift. Alongside, with its flat bottom, it is easy to catch smaller and slower waves while further improving your speed.
Altogether, this Evan Rosal signature model can surely take your surfing experience to new heights. It makes surfing even more fun.
#4. Catch Surf Odysea 6'0″ Log x Johnny Redmond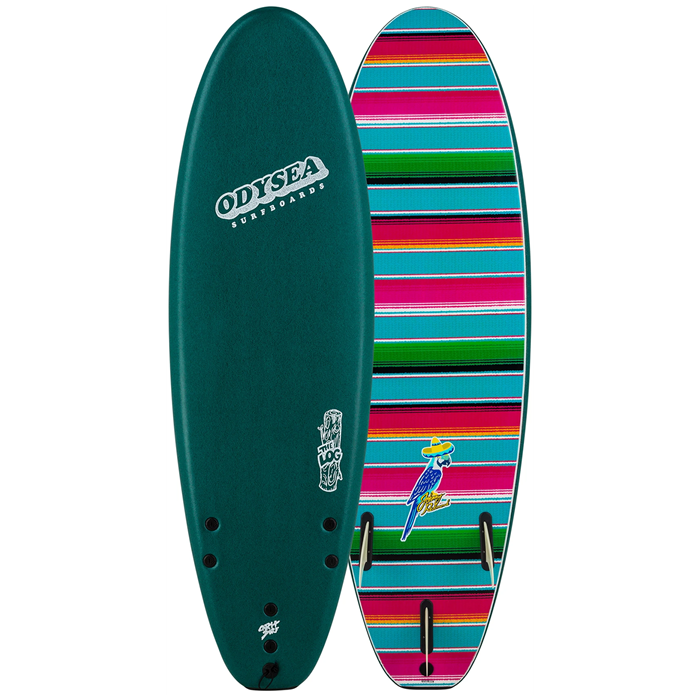 When fun is what you desire, this surfboard makes sure you have the best of it.
Whether you are just starting to surf or you have achieved the pro level, this amazing surfboard gives you every opportunity to enjoy your favorite sports. It has easy wave-catching features that let you catch every wave whether it is small or huge. Also, it gives tons of float so you can set your speed and have better performance.
It is built with a strong and stiff dual composite core for durability; to enhance it even further, you will see triple wood stringers. If you are an old-school person, you will see a classic PE deck. Furthermore, it has a durable HDPE slick bottom with a bumper tail. Having this construction, it becomes the favorite board of many surfers.
Just so you can tune your board in the way you like, it comes with a high-performance fin system with removable fins. The fin compatibility is catch surf hi-perf. With its tri-fin box layout, you get versatility so you can enjoy great maneuverability.
The tail is a squash with a flat bottom. With this combination, even the smaller waves are no problem at all. On the whole, this hybrid funboard is well equipped with everything to augment your surfing pleasure.
Funboard Surfboard Size Chart
Here is a general size chart for fun board surfboards:
Beginner:
7'0″ to 8'0″ fun board surfboard for people weighing up to 200 lbs (91 kg)
Intermediate:
6'8″ to 7'6″ fun board surfboard for people weighing up to 200 lbs (91 kg)
7'2″ to 8'0″ fun board surfboard for people weighing between 200-225 lbs (91-102 kg)
Advanced:
6'6″ to 7'2″ fun board surfboard for people weighing up to 175 lbs (79 kg)
7'0″ to 7'6″ fun board surfboard for people weighing between 175-200 lbs (79-91 kg)
7'4″ to 8'0″ fun board surfboard for people weighing over 200 lbs (91 kg)
Remember, these are general guidelines, and you should always consult with a professional to find the best surfboard for your individual needs and abilities.
Things to Consider When Choosing Funboard Surfboards
Funboards are the mid-range boards that are shorter than the longboards and longer than the shortboards. They have ideal dimensions when it comes to length, volume, width, and thickness. They are called funboards because they are truly fun to ride.
First thing first, you must ask yourself whether you need a funboard. Funboard is mainly for beginners. It is for those who have completed their surfing basics on soft-top board and now want to switch to a harder one. Funboard is the fiberglass version of a form board.
Because of its special shape and design, it provides better opportunities to learn new skills and maneuvers. If you have already practiced on soft board, and now you want to move on to advanced levels, then you must really go for it.
However, funboards are not for beginners only. No matter how experienced you are you can try it. This board has its own features which makes it likable among different skill levels.
There are many diverse features of the funboards. When you are ready to buy one, there are certain things that you should consider before you invest your money on a funboard:
Length and width
The length of the funboard is between 7 to 9 feet. One simple way to get the right size is to just get a board that is one palm higher than your height. It is considered to be the ideal height and gives you better control of the water.
Wave Size
When you are in a place where conditions remain similar throughout the year, going for a funboard is better than the longboard even when you are starting new.
Surfboard style
There are many different types of surfboard styles. From a flat bottom to a convex one, you can get various styles.
Hull bottom: You get no concave at the bottom; it is a vee or convex from one end to another.
This bottom uses the power of the wave to generate speed. It lets the board sink a little so that waves can do the job for you to generate speed.
Usually, this bottom is combined with the soft rail with no hard edges so that it can be released easily. It is ideal to use when there are clean waves. Longer waves are obviously better when it comes to longboards because they are not designed for better turning.
Concave bottom: This bottom creates speed when the surfer pumps the board. It keeps the board above the water, so you have to do all the work.
Flat bottom: With the flat bottom, you gain better speed and even enjoy smaller waves.
Fins
When it comes to funboards, there is a much debate over fin setup. The single fin offers free feel and best for running down the line. The tri-fin setup provides greater hold and acceleration while turning.
Also, they create more lift and let you turn at full speed. Which fin setup to select is totally your personal choice. There is a quad fin setup as well that enhances control and even maneuverability.
Bonus tips
We have the best eggs in our basket. Yes, why to search more when you have the best funboard list right here. Use any one of them and you will be glad that you have taken our advice.
They are the best funboards in the market and can surely make your surfing even more fun.
Rob love surfing, wakeboarding, wakesurfing. He's writing about them in this blog.