Finding the best wakeboards for beginners 2024 is easier said than done. After all, there is a seemingly endless list of boards out there. It can be so easy for you to be overwhelmed and just pick a random one, just to get it over with. Needless to say, this is the worst thing you can do. After all, not all boards are made alike. Similarly, not all wakeboards are made for beginners.
With that in mind, we have come up with this handy guide for the best beginner wakeboards for 2024. We did our research, listed down the boards that stood out, and left out the ones that didn't. In addition to this, we also prepared an informative guide to the world of wakeboards and the things you need to consider when choosing one.
So, be sure to keep reading!
Best Wakeboards for Beginners 2024
Listed here are a couple of the best beginner wakeboards available in the market today. All of these boards are designed to help you get your bearing as you learn the art of wakeboarding.
#1. Hyperlite Franchise
No matter what is your skill level, this wakeboard features everything that can take your midair tricks to a whole new level.
Riding this wakeboard is not only easy but fun as well. It is highly foreseeable and contains no surprises for the person who is new to this sport. It's all due to the continuous rocker line with exclusive tapered channels that makes the perfect alignment with the fins. The amazing rocker design takes you to the wake with little effort. Because of the continuous rocker, you get a longer trajectory all the time.
When you go from the flats to the wake, you find smooth speed and with the weight that you like. It has a low swing weight because of its special light structure with narrow tips. Furthermore, it has a variable edge profile with sharp edges over the tail and tip.
Talking about the core, you get the very best with the BioLite 3 core. It is the perfect thing to have since the day it was created. The Bio 3 is very light with the durability that you desire. With the monocoque construction, the bottom and top glass become one giving the ability to lower delamination. Additionally, years after years, you get the same pop because of the layered glass.
#2. Liquid Force Trip
With the perfect core, ideal rocker, and awesome shape, this wakeboard is made keeping in mind the advances of the new world.
When you want to take the advantage of the best design, then this wakeboard is for you. It can take you from zero to hero in no time thanks to its aggressive continuous rocker. It is perfect for the most demanding trajectory arcs off the wake. Also, it is super for flowing transitions.
The shape enhances your performance in every way. The special diamond bat-tail shape with double concave V at the tips gives it seamless abilities. Thanks to its D-I-S-C hull having edge channels, it gains good speed and maintains it with soft landings.
With the dura-glass layup, expect the lamination to last for really long. You can also have high expectations from the fins. It has warped molded-in side fins and a removable center fin.
With the precision PU core, you get the core that is made to meet all the high-quality standards along with keeping the weight low. But with lesser weight, you get mesmerizing durability that makes the board last for ages.
#3. Slingshot Salmon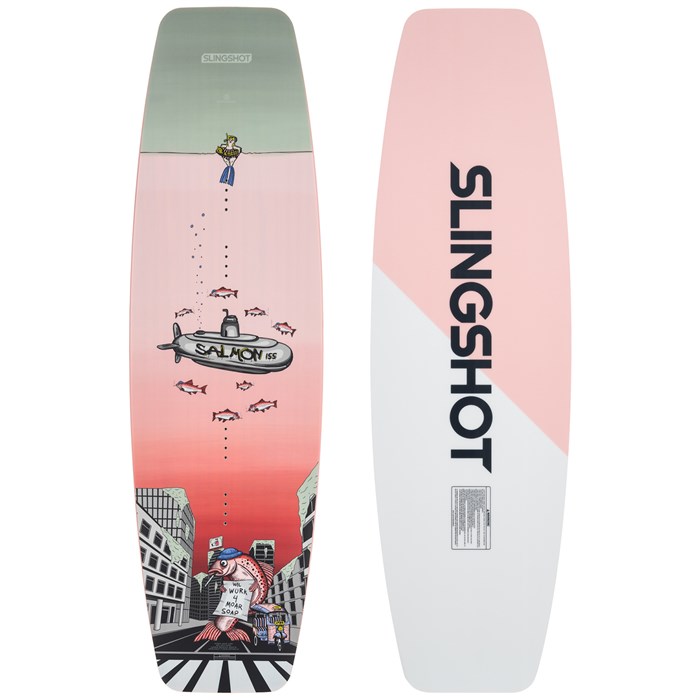 Slingshot Salmon is made to meet all your veteran needs when it comes to air maneuvers.
Welcome to the future with this new Slingshot Salmon wakeboard. It is the blend of a modern and classic world. The continuous rocker profile makes this board one of the fastest you can enjoy. The speed is awesome and helps you ride for a greater time with lower fatigue and more fun.
The core also gives you an amazing feeling. It is made from an atomic wood core. The laminated wood core is what makes it famous. Also, it has fusion sidewalls. The company has added the same high durometer urethane skateboard wheels present in the board's rail.
Well, with this board, you have the ballistic base that you dreamt of. There is 7mm bulletproof protection present between the sliding surface and board.
Furthermore, you get carbon bedrock inserts with it that are flexible, light, and very strong. Also, they impact lowering the weight of the board greatly which gives extra flex and more strength when you stand on it.
#4. Hyperlite State 2.0 Wakeboard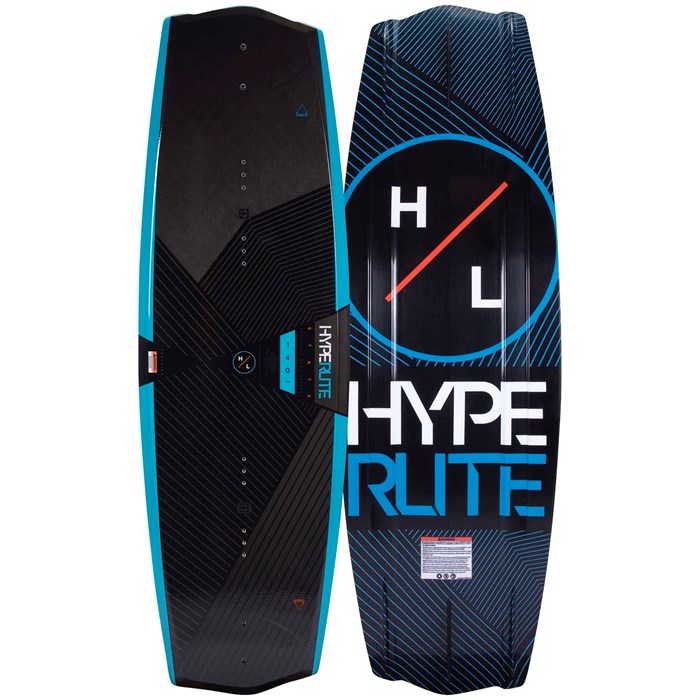 Another entry from Hyperlite, the State 2.0 is another noteworthy contender to the title of best wakeboard for beginners. It is an excellent board for newcomers to practice their skills on. With enough time on this board, you should have no trouble advancing to the next level.
Its design is one of the things that make this perfect for newbies. For instance, it features an asymmetrical bottom as well as longer fins and channels. This gives you additional grip when cutting especially on your weak side. It may seem like an innocuous design choice but it is something that can help you progress and learn faster.
In addition to this, Hyperlite went out of the way to ensure that this board is as tough as it can be. Instead of traditional woven glass fibers, this board is made from layered glass. At the same time, its top and bottom glass is integrated into one. Both of these make for an extremely durable board that can stand the test of time.
#5. Ronix RXT Blackout Technology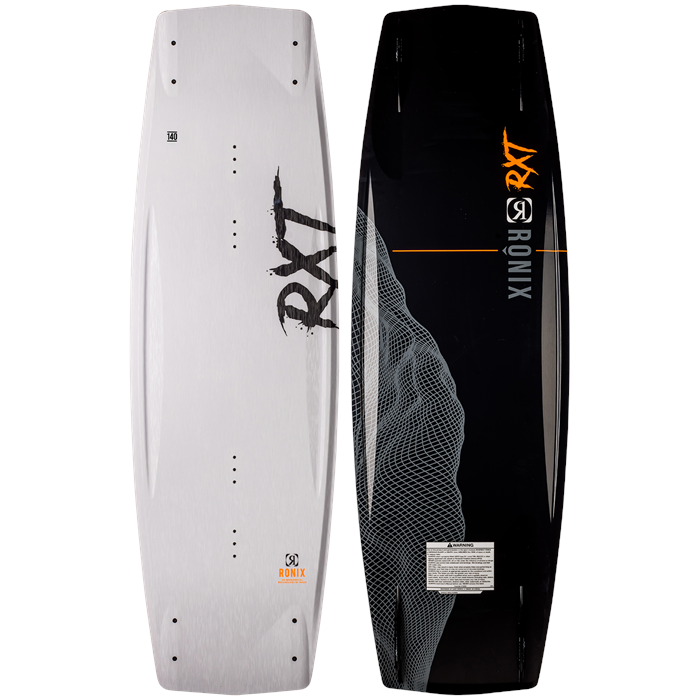 Ronix has given the best gift to its fans with this latest RTX version having superb features.
This latest version comes with a continuous rocker having an earlier arc. It gives you a constant smoother gliding every time. Furthermore, it lets you ride at high speed during the transition and provides a better landing.
With 10 flex having 10 instant energy ratings, you don't have to wait to gain a full lift from the power-building ability of the board. From tip to tail, the energy generation is the fastest. Thanks to this flex, the board becomes most responsive than any board you ever hold. The board is happily poppier for more fun.
As it is advertised to be their most amazing core, it is surely the best. Ronix kept it a secret about what's its blackout technology holds, but whatever it has is truly fascinating. It makes the wakeboard super light with high durability.
Having four fins with park riding style, Ronix has designed this board specifically to meet the needs of advanced players. Just grab this board and take your wakeboarding to a whole new level instantly.
#6. Liquid Force Remedy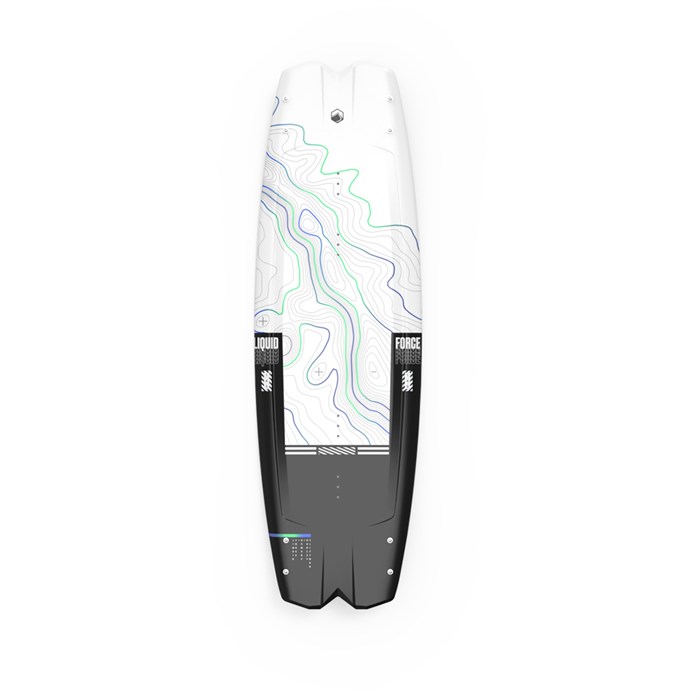 Being the best of the best, this wakeboard makes your riding more efficient than ever.
With its 3-stage rocker, it is meeting the needs of control and speed. It has a flat center curve along with an enhanced exit angle – this combination gives the mindblowing pop.
Alongside, the diamond split tip with the triple concave hull improves things further. Its bottom creates an amazing lift with full control. Also, this construction makes this board more maneuverable so you can enjoy it more.
Furthermore, the rails have a thin low volume that adds speed, power, control, and maneuverability. You get enhanced wake with the speedy edge-to-edge transition. For the core, it has precision PU, which is one of the best company core.it keeps the weight light and makes the board durable year after year.
The board feels different because of its unique combination of fiberglass. Its flex and strength are like no other. There are also venturi quad-channel tips that disperse the water in a V shape to enhance water flow and give you a faster ride.
Made especially for the advanced players, this wakeboard is what you have always wanted.
#7. RAVE Sports Impact Wakeboard
The RAVE Sports Impact is perfectly designed for the beginner looking to hone their skills. If you want your wakeboarding skills to progress, then you definitely need to give this one a try. Its continuous rockers give you a forgiving experience. The board is incredibly easy-to-control, stable, and predictable. You can rest easy knowing that your landings will always be on the softer side.
Built from flexible and lightweight materials, this board is extremely robust and easy to use. It sports a foam core that gives you all the buoyancy you need. At the same time, it comes equipped with reinforced edges that provide your rails with impeccable resistance to Impact, giving your board an extra level of safety and durability.
It also gives you all the control you need. For instance, you have the option to remove its fins. If you feel confident enough, removing these fins will help you master edge control and use the rail. In addition to this, its high-quality adjustable boots feature lace-up bindings.
As a beginner's wakeboard, the board is easy enough to use. At the same time, it also challenges you to step out of your comfort zone and go beyond the basics.
#8. Slingshot Windsor
Get the best of both worlds with this wakeboard having more pop with greater speed on the water.
This board has a hybrid rocker profile for advanced players. It gives them speed as well as pop that makes them love wakeboarding even more. The flex style is also startling for many with flex tips being moved to the flex point going into the tips rather than the belly to give you a unique feel.
Alongside, the Slingshot fusion sidewalls make things even better. You will find highly advanced technology in this board that adds rail into the board core for real in a single shot. It gives extra durability and unmatched dampening to the board.
Also, it has a vertically laminated atomic wood core that adds more flex and style to the board. The combination of the ballistic base gives the board the bulletproof protection that very few offers. This base is Ballistic certified as it went through diverse tests so you can remain sure of its worth.
If that's not enough, it has carbon bedrock inserts which are reinforced with carbon fiber to make the wakeboard lighter, but more flexible and stronger.
Overall, from one end to another, it is made the best to give you the best.
#9. Obrien Intent Wakeboard
Obrien has made its fans proud by introducing Intent to give all that is desired.
Having a 3-stage rocker, this wakeboard has a flatter rocker line present in between the bindings but their angles are molded upward at both ends. With this construction, the wake becomes more aggressive with dynamic pop.
As for the flex, it has a vector net that offers an extra break and buckle resistance while providing a lively and natural flex pattern. Thanks to the pulled-in tabs, the board offers a better transition from one end to another. Also, the V shape spine takes the water outwards on impact and thus improves landing.
Alongside, it has a variable beveled edge that makes edges rolled to offer a smooth ride with sharpened ends for extra bite.
The core features a feather core that lowers the swing weight and offers more control. Altogether, it also gives much-needed extra pop. The delta base has chevron-shaped channels to offers better wake and faster ride every time.
With its four customizable fins, your performance is in your control. All in all, with its park, wake riding style, this wakeboard always makes you feel extra good about your riding.
#10. Connelly Steel
Steel Lafferty tested and approved, it's enough to tell this board's awesomeness.
Whatever you want to do and in whatever way you want to ride, this wakeboard is just perfect in every aspect. Having a 3-stage subtle rocker, this wakeboard offers a continuous smooth wake every time.
Furthermore, its deep full spine construction takes the water to the heel and toe edges and offers softer and better landings. There is also a deep center channel for complete control.
It has an ABS rail with a flex core. It means the ABS is blended with foam to give the performance like no other. The base is made from the strongest and the fastest material yet so you can have excellency in your riding. The fins add more control.
With more power and control, this wakeboard is one of the best today that is just perfect in all aspects.
#11. Obrien System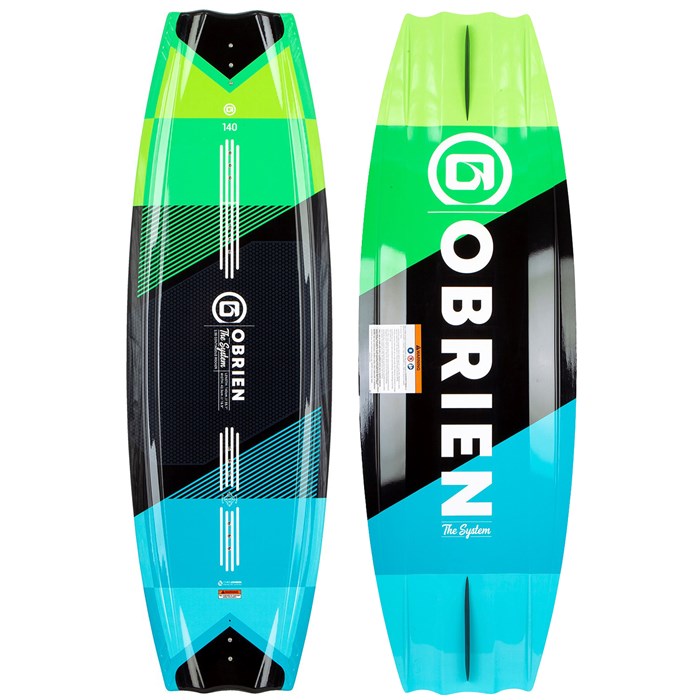 Enjoy your ride from day one with this amazing wakeboard perfect for beginners.
Obrien has added all the goodness in this wakeboard. The design of this wakeboard is made to give you a stable and smooth ride which is ideally needed for the new riders. The continuous rocker makes things better. It gives an even curve from one end to another. The balanced rocker line provides you balance and gives you full control. Further, you get the predictable pop for your amazing stunts.
When it comes to the core, you also have something great. It features a feather core that lowers the swing weight so you can have extra midair control along with having an awesome pop that you need.
The fins are also up to your mark. You can take the benefit of the 1.4 attack fins. Not only that, but it also owns removable center fins. It provides extra tracking to those who love to have better control.
Other than these amazing features, you can also enjoy a grab rail that makes it easy to lock on to grab and further helps in carrying the board. What's more, you need when you can have all the exciting features in one wakeboard.
Best Wakeboards for 2022
#1. Ronix Krush SF Wakeboard
Enjoy the best of wakeboarding with all the aerial maneuvers that you have dreamt of with this Ronix's miracle.
Designed for women especially, the core has the secret flex. Though it is made for women, it has the power to even bear the weight of the men. It is ideal for you when you are initiating enjoying this sport or you have already achieved some level. For sure, this wakeboard doesn't disappoint you.
Built to provide ultimate performance, it features a 3-stage rocker. It has an exaggerated rocker line with an advanced arc; it enhances the pop greatly. This design gives you an instant wake with much energy.
You get three flex with this wakeboard that further has one stored energy and 10-instant-energy. When there is more stored energy that means you get a full lift from the power you have from the top to the tail of the board. Additionally, when there is more instant energy, you get a better lift and direct wake with better control.
Overall, it is one of the best wakeboards for women, which gives you performance with style.
#2. Hyperlite New 2020 Wakeboard
The latest board from Hyperlite is designed to give you the optimal pop off the wake due to its 3-stage rocker design. Overall, riding this board is an experience not to be missed as it gives you unparalleled stability and responsiveness.
This board is perfect for beginners who are learning the ropes as it gives you every feature you will ever need. For instance, you are given complete control through the board's four removable fins allow. At the same time, you are given the ideal speed with the board's step down edges. Plus, its use of the 3-stage rocker makes flying off the wake that much easier.
In addition to those features, we also immediately noticed the upgrades that came with this newest iteration from Hyperlite. For instance, it sports a thinner and more lightweight design. Needless to say, this gives you more power under your feet. It revamped binding also gives you all the security you need as you ride. It even has a padded footbed that gives riders additional comfort.
As its name suggests, this board is designed for accessibility as well as it fits all shoe sizes ranging from 8 to 14.
#3. CWB Connelly Charger Kids Wakeboard
Finally, we have the CWB Connelly Charger Kids Wakeboard. As the adage goes: you want to start them young. The Charger wakeboard is specifically designed to help with that goal. It is a beginner wakeboard that will help your kids learn the basics of wakeboarding. With enough use, it will help them become familiar with the fundamentals so that it becomes second nature.
It is incredibly easy to use. For instance, it has a 3-stage rocker that gives the board a subtle but significant a pop off the wake. Moreover, it gives your kids a safe and stable ride, effectively helping them build their skills and confidence. In addition to this, the board also has molded fins that let your kids adjust the way they want to ride. They can even opt to remove the fins should they wish to adjust the board's tracking. At the same time, the rails along its base provide your kid with an increased grip as the board edges.
Types of wakeboards
If you are just starting out, you may not realize that there are different types of wakeboards available in the market today. Needless to say, you should make it your priority to find the one that best fits you. That said, we are here to help. Presented below is a breakdown of the different wakeboards and their main features.
Wave Park Boards
First, you have the Wake Park Boards. These are the boards used to ride in wake parks. Because of this, they often come equipped with reinforced sidewalls to provide an extra layer of durability. They are specifically designed to absorb the stress of flat landings and kickers.
In addition to this, these wakeboards also have softer flex patterns to give its riders a more comfortable feel on the water. Typically, they have basic bases that feature removable fins. In some cases, the fins are removed entirely. Just remember that this provides you with less traction once you are in the water.
Boat Boards
The second type of wakeboard is known as boat boards. These are the boards you ride as you are towed by a boat, usually in the open sea. They usually feature a set of fins on its base. In addition to this, they typically use stiffer flex patterns that enable its rider to maximize the energy while you transition off the wake and boost off the lip.
As you would expect, these boards go through a lot of stress from regular use. That is why they also usually sport a heavy-duty design and durable construction in order to keep up with the inevitable wear and tear that comes with landing in the flats.
Hybrid Boards
Finally, we have the hybrid boards. This is the type of board that provides you with a middle ground from the two previous kinds of boards. This means that you can use these boards as a boat board and as a wake park board.
Hybrids are perfect if you do not want to spend double by purchasing two separate boards. They typically feature a sturdy design that lets you navigate either environment. While the flex falls somewhere in the middle, most of these boards provide you with enough traction and stability.
These are the different types of wakeboards. Make sure to remember their features and what sets them apart. Needless to say, you need to decide where you plan to use your board so you can pick the one that is best suited to that environment.
How to Choose the Best Beginner Wakeboards
One of the things that make a beginner's wakeboard stand out is its use of the distinctive squared edge design.
This seemingly insignificant feature actually makes your ride that much easier. This is because it lets you get the most out of your board in terms of control and stability.
Of course, this is not to say that all wakeboards are made the same. You need to pick one that best suits you. To do this, you need to take the following into account:
Length and Width – The board's height and weight affect the way you ride. As a general rule, it is highly recommended that beginners start with bigger boards. After all, you want to start slow if you want to get the hang of things.
Rocker – The board's rocker refers to how much the wakeboard curves at its ends. It can range between rounded bottom boards to boards with a flat base. For beginners, it is recommended that you choose one with a continuous rocker curve for a smoother and more predictable ride.
Fins – The fins are responsible for helping you steer the wakeboard. Remember that the deeper the fins, the more stable the board will be. Needless to say, beginners will want to make their board as stable as possible. However, as you progress and improve your skills, you can start working with shallower fins. Make sure to get a board with removable fins so you can start practicing.
Edges – Another important factor to consider when choosing the best beginners' wakeboard are the edges. You have the choice between sharp and rounded edges. While the former can provide you with great a lot of speed and acceleration, the latter is a bit easier to control which makes them perfect for surface tricks. Of course, you also have the option to go with variable edges that give you the best of both worlds.
Bindings – These secure you to your board. As a rule, you want your board's bindings to be comfortable and snug.
These are the things you need to consider when looking for the best beginner wakeboards.
The list we provided should help narrow down your search as all of them can easily claim the title of the best wakeboard for beginners. So, be sure to check them out.